Top 12 Receipt Printers (with Best Purchase Guide, 2021)
Every purchase made in a retail store ends up with printing a receipt at point of sale. With manual bills becoming a thing of the past, businesses that use POS systems to process retail transactions are certain to require receipt printers at some point in time.
When starting a new retail business, whether small or big, investing in a receipt printer(s) as a part of POS hardware toolbox is crucial. The device has an important role to play – that is to print customer receipts, credit card slips and order detail slips in restaurant settings. Not only do paper receipts serve as a proof of purchase in the event of a refund or return, but they also reduce wait time for customers in queues and improve checkout efficiency.
Also Read - POS Hardware - Everything You Need to Know
Even in the digital landscape, receipt printers have been around for over a decade and seem to be gaining much importance as an integral part of POS hardware. Regardless of the convenience that online shopping offers, many online shoppers who do not want to share their email addresses, prefer paper receipts over electronic receipts.
In addition to printing paper receipts, it is important to ensure print quality. If your business necessitates receipt to generate ticket or coupon in case of a complaint or return, you must invest in a receipt printer that prints out in a quick and efficient manner. Because the last thing you want is a receipt not being scanned due to a print error out of the customer's hand. Poor print quality can cause returns, exchanges or refunds difficult to process. This, in turn, negatively impacts on customer satisfaction and your business reputation.
So, choosing a quality receipt printer is imperative to delivering a seamless shopping experience and building strong customer relationships. There are several considerations – from business needs to budget and compatibility, that can lead to an informed and fruitful purchase decision…
Also Read - How To Choose The Right Retail POS System For Your Business
But First, Let's Brush Up on the Different Types
As with any device, when you decide to invest in a receipt printer, the first thing you think about is "the type". There are a variety of receipt printers in the market that are designed to work in different environments – from the basic models that can simply print receipts to the ones that can print on the go and those with Bluetooth connectivity.
Two common choices you will encounter include;
IMPACT PRINTERS
Like traditional dot-matrix printers, impact printers consist of a print head with 9-25 small pins and an ink ribbon. These pins stroke through the ink ribbon to form letters and graphics on the receipt paper, usually in black and red.
Why you may want to choose an impact printer:
Least expensive and durable
Simple and reliable function
Can print multiple copies at once
Can work efficiently in high-temperature settings
…and why you may not:
Noisy
Low printing speed
Limited print quality
Prone to paper jamming
THERMAL PRINTERS
A thermal printer uses heat, instead of a traditional print head, to create characters. The lack of need for ink or toner helps to make up for the costly replacements over time.
Why you may want to choose a thermal printer:
Faster speed
Quieter functioning
Better print quality
Lasts longer
Easy to maintain
Relatively lightweight
…and why you may not:
High initial cost
Limited colour print choices
Of these two printing technologies, thermal printers are a common sight at retail stores and restaurants because of their both customer- and retailer-friendly advantages.
Selecting a printing technology is only half the battle, the other half starts with narrowing down your choices to a specific model. To help you with your first receipt printer purchase, we have compiled a handy list of 12 top receipt printers you can consider. But before we move on to that list, let's take an insight into some key considerations that will make sure you end up with a solution that works best for your business.
KEY CONSIDERATIONS
How are you going to connect your receipt printer with your computer or smart device? There are different types of interfaces. Determine what types and how many ports your system has in order to choose an interface that fits your needs.
Serial: A simple, inexpensive and widely used solution with 9-25 pin male connectors. It's a bit slower than its advanced counterparts like Bluetooth and USB.
Parallel: This is usually faster as it has more wires than serial connectors and easily connects with a circuit board. It is slower than Ethernet and USB.
USB: Commonly used and universally available interface that also carries power to devices. Flexible but more expensive than older solutions.
Ethernet: Offers great LAN and internet connectivity with the capability to carry signal across long distances. It is the most expensive wired solution.
Bluetooth: This wireless connectivity reduces cord-related clutter and draws less power thus, is easier on device batteries. It is more expensive than traditional options.
Do you need a stationary or a mobile model? Generally, receipt printers are placed at a fixed location. But if your business operates in a warehouse or a stockroom, there are enough reasons to consider mobile receipt printing technology for your POS setup. It allows you to improve productivity, increase staff flexibility, support impulse purchases and improve customer satisfaction.
Check with the vendor if the receipt printer is compatible with your POS software before purchasing.
If you are planning to install a printer connected cash drawer or already have one, make sure the receipt printer you choose is compatible with the cash drawer.
Consider printer resolutions (DPI) and printing speed.
Does it offer a tear bar or use an auto cutter to cut the paper? While most modern printers are equipped with an auto cutter, there are still some impact models out there that use a tear bar. An auto-cutter gives clean receipts with less effort. However, a tear bar leaves the receipt with a rough cut and the printer with some paper dust build up. The tear bar option is only suited to some retail environments that use cash receipts and customer-only credit card receipts with electronically stored signatures while an auto cutter is ideal for places that regularly use food coupons or tickets, gift receipts and credit card receipts that need ink signatures.
Whatever solution you choose, make sure changing paper rolls is fast and easy. You don't want to keep your customers waiting and increase their chances of not wanting to return to your store due to a bad checkout experience.
Before choosing a printer, it is also important to set a price range in mind for your purchase. While receipt printer prices may range from $180 to $800, make sure your budget wisely accommodates your needs.
If your business is concerned with being environmentally friendly, you will want to determine how green your receipt printer is. Some brands support eco-friendliness by implementing an energy saving technology in their devices which also helps to reduce the amount of paper used in printing receipts. Not only are those options eco-friendly, but also result in significant savings over time.
Besides, brand, reliability, compatibility with your pos software and warranty programs are some other factors you want to account for when investing in a receipt printer.
Now that you have gained knowledge about types of printers suited to retail environments and key considerations to make sure you get the most out of your investment in a receipt printer, it's time to get you acquainted with our list of top picks.
Get to our New List of Top 12 Receipt Printers
1. Epson TM-T82III Receipt Printer
2. Epson TM-T82IIIL Receipt Printer
3. Epson T88VI Receipt Printer
4. Epson T88VI-I intelligent Receipt Printer
5. Epson TM-m30 Receipt Printer
6. Star Micronics TSP143 Receipt Printer
7. Star Micronics TSP654 Receipt Printer
8. Star Micronics TSP743 Receipt Printer
9. Star Micronics SP742 Receipt Printer
10. Bixolon SRP330 Receipt Printer
11. Epson TMU220 Receipt Printer
12. Posiflex AURA 8800 Receipt Printer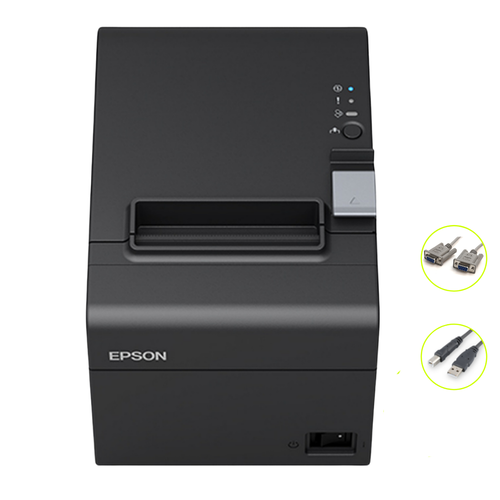 A robust system strategically designed for the modern POS technology, Epson TMT82 III opens the door to countless retail possibilities. The compact, minimalist construction gives you the freedom to set up the device anywhere and get started with minimal fuss.
Equipped with wireless connectivity support using a dongle, the device facilitates mobile receipt printing, eliminating messy cord setup and allowing you to handle your POS operations through your smartphone. Other highlights include printing speed of up to 200mm/second, auto cutting and ease of integration.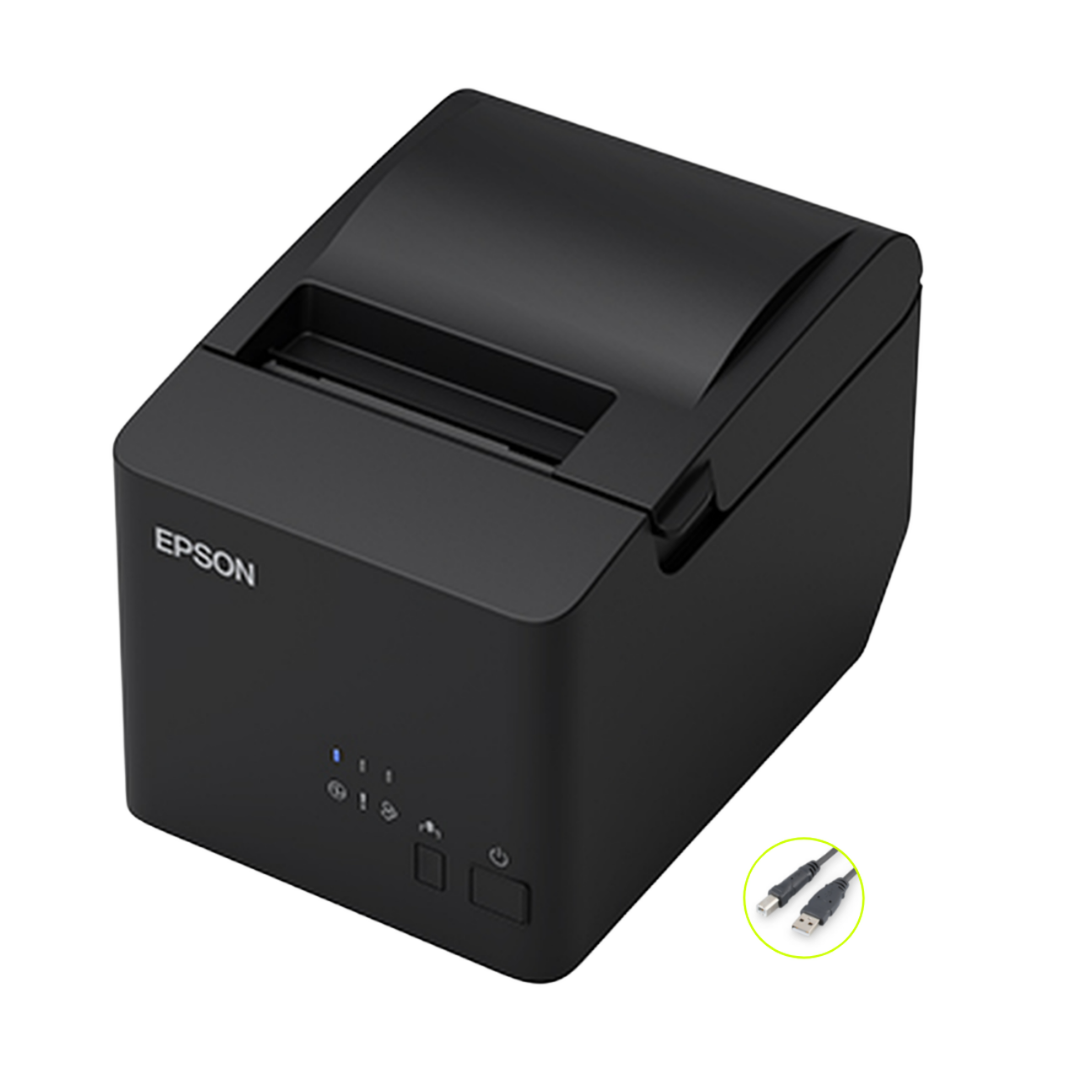 A perfect combination of affordability, reliability and convenience, this Epson model offers easy placement options to small retail and speciality stores. Its internal printing apparatus is housed in a robust metal framework for added protection while all the buttons are placed at the front surface of the device for ease of access and use. The overall design and built make the device easy to set up and maintain. The printer also implements paper saving function and has a built-in AC adapter for smooth operation.
These thermal receipt printers are ideal for retail environments with low volume POS transactions.
Built upon the robust foundation of the T88V, the Epson T88VI combines industry-leading performance with a cutting-edge technology that gives you the flexibility to seamlessly manage a traditional PC POS and tablet or web-based solutions together. This makes it an ideal receipt printer for retail shops, bars and restaurant businesses that want to enhance customer engagement through mobile operation without losing the functionality of a traditional POS system.
The blazing fast print speeds of 300mm/s give and an auto cutter life of 3 million cuts ensure a swift, hassle-free checkout, reduced customer wait-times and lines and maximum reliability in high-volume environments. Not to forget, the backward paper-feeding system that helps reduce paper wasteand running costs without affecting the performance.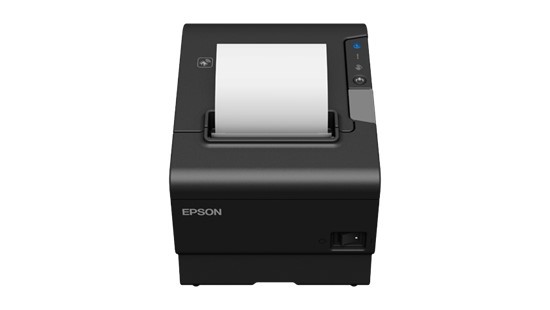 The Epson TM-T88VI is a smart POS printing solution that makes billing swift, simple and hassle-free with an array of innovative features.

Save on space with the printer's sleek and compact design
Reduce customer wait-times with print speeds of up to 350 mm/s
Connect to the web, a PC and a mobile device simultaneously
Print directly from mobile devices with the Beacon Support feature

The TM-T88VI enables printing with high-quality graphics, images and logos. Add print speeds of up to 350 mm/s for reduced wait-times and you have productivity that drives business. With an Energy Star® award to its credit, the TM-T88VI ensures that you save on power with every print.Designed to operate in even harsh environments, the TM-T88VI defines reliability with an MCBF of 70,000,000 lines and an Auto Cutter Life of 3,000,000 cuts.The TM-T88VI is equipped with a backward paper-feeding system for reduced running costs. This feature also helps you reduce paper wastage by up to 49% without hindering print performance.The TM-T88VI features Server Direct Print that enables printing directly from any web server. Another feature is the Beacon Support that enables printing directly from any connected mobile device.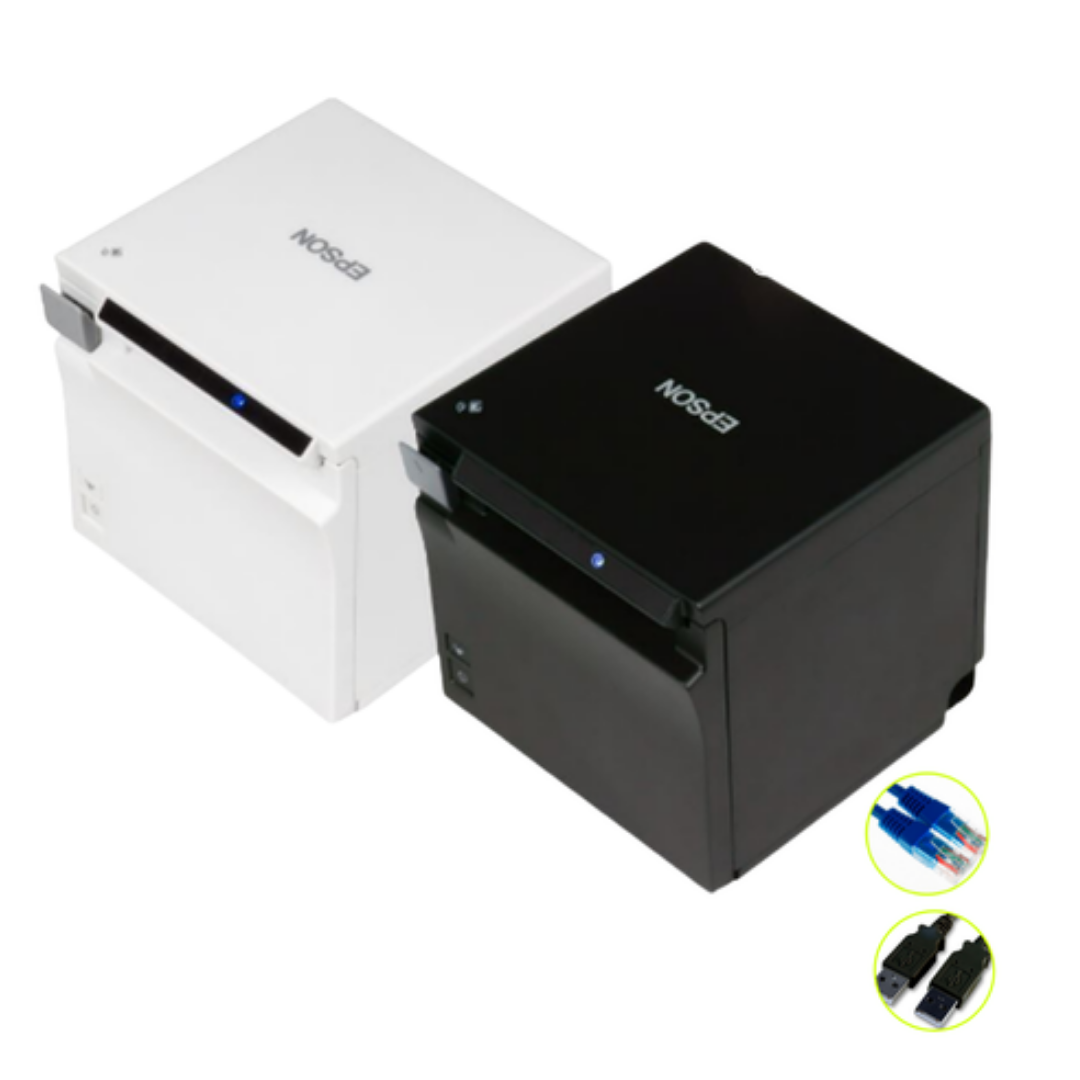 Carefully designed to fit small retail environments without compromising on performance, Epson TM-m30 sports a sleek and space-saving construction in black and white. The 3" printer offers a print speed of up to 200 mm/ sec with a wide range of connectivity capabilities such as USB, Bluetooth, Ethernet and NFC.
The first of its kind to add the level of print reliability, flexibility and convenience that modern POS environments demand, the TM-m30 can quickly and seamlessly integrate with iOS, Windows and Android platforms. Another highlight of the device is its flexible configuration wherein you can opt for front or top access control to suit your needs.
Widely considered as an eco-friendly choice, Star TSP143 is a lightweight, portable thermal printer with a decent printing speed of 250mm/s, a long-life span and a moderate price tag. A leading solution in the mobile POS market, this printer ensures easy and ready-to-use set-up with LAN, WLAN, Bluetooth and USB connectivity.
Star TSP143 also offers a unique capability of printer communication and tablet charging through lighting cable connection which is not present in any other model in the POS industry.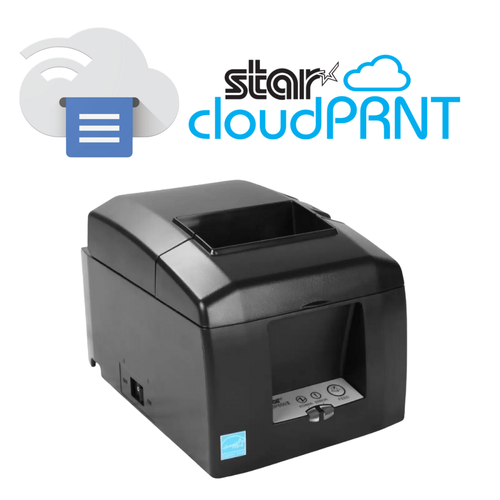 A high-end product from Star Micronics, this receipt printer is quite popular amongst retail businesses with a high volume of daily transactions for its remarkable printing speed of 330mm/s. Some of its key highlights are compatibility with iOS, android and desktop devices, a guillotine auto cutter, easy drop-in and print paper loading and a variety of interface options including Bluetooth, Ethernet, USB, Parallel and Serial.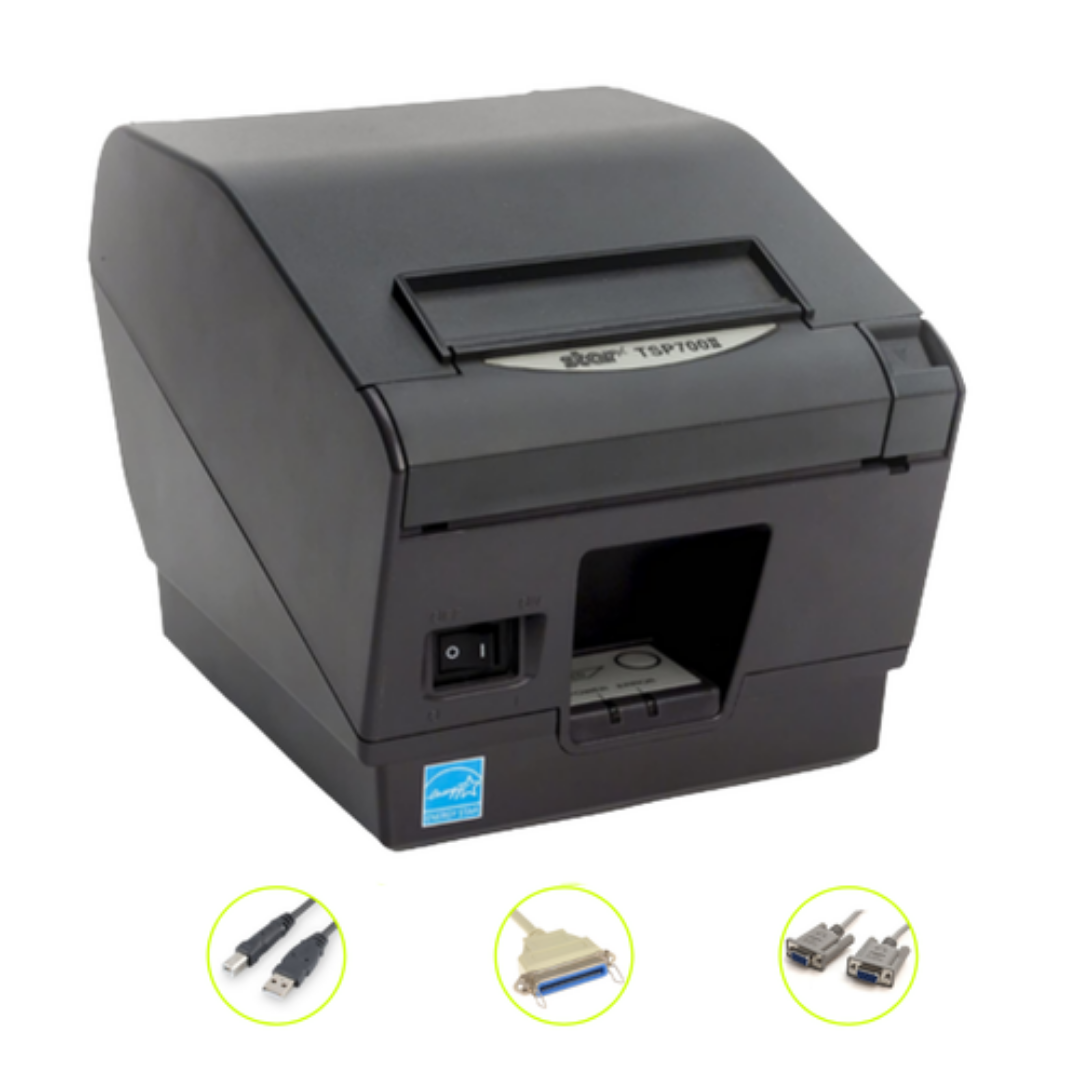 Ideal for POS, credit card transactions, restaurant, hospitality, and kiosk applications, Star TSP743 comes with an ultra-high print speed that will benefit your business with high productivity and efficiency. The device supports two-colour thermal printing allowing businesses to print receipts with barcode, logos and coupons, reducing customer wait time to a great extent.
Besides, the automatic cutter with both partial and full cutting capability, make sure your customers keep moving swiftly through transactions.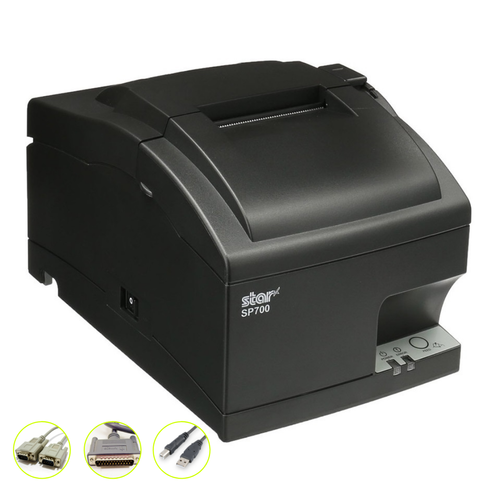 High temperatures and humidity levels in kitchen environments can erode the type on kitchen order slips and receipts. In addition, spills, drops, steam and heat in the back of the restaurant kitchens can affect the efficiency and functionality of a printer. The SP742 impact printer from Star Micronics is specifically designed and built to deliver a high performance in such environments. It features a clamshell design that makes for easy paper loading while a small footprint makes it an ideal printing solution for small and cramped restaurants and F&B outlets. The embedded power supply helps you save even more counter space.
With its fast, two-colour capability, you can quickly produce clear, crisp and easy-to-read type while highlighting important information. Moreover, the printer is compatible with Android, Windows, iPad, and iPhone devices.
10. Bixolon SRP330 Receipt Printer
With a printing speed of 220mm/second, Bixolon SRP330 is one of the most economical monochrome models in the similar range offering high performance and reliability. The printer offers models with print resolution of 180dpi or 203dpi with an optional paper guide that allows you to switch between 2-inch or 3-inch width media, ensuring easy paper loading.
It offers flexible interface connectivity through an All-In-One Plus™ Interface; either dual Interface support (USB + Ethernet)or triple Interface support (USB + Ethernet + Serial). The model also features a unique label plate at the bottom of the device which includes QR details of technical support.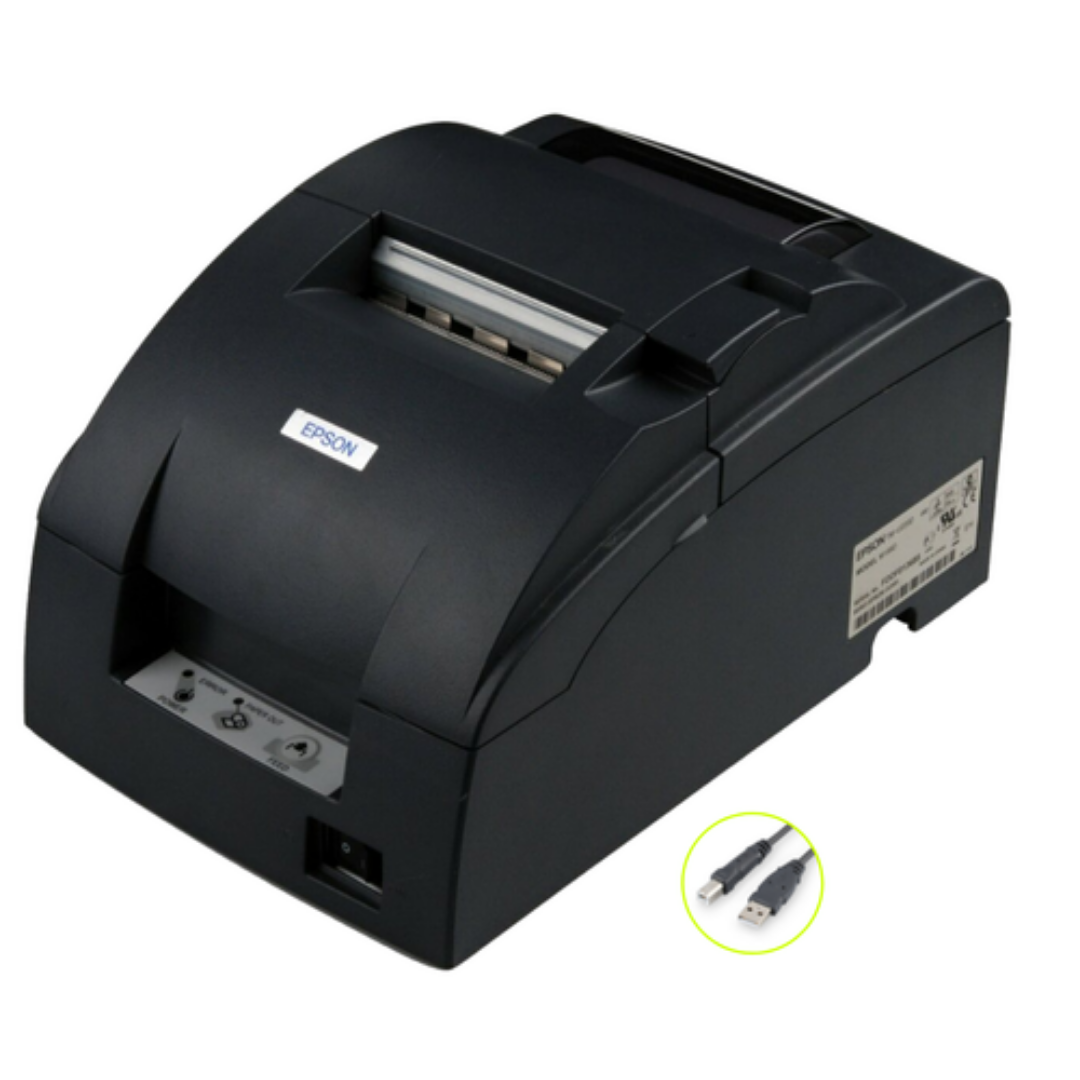 With a 30% faster printing speed than its previous versions, Epson TMU220 ensures high levels of printing efficiency and productivity even in high-volume environments. This dot matrix printer is designed to be compatible with existing systems that are built around a TM-U210. Epson TMU220 is a great deal for businesses that are concerned about the environment. It complies with Epson ecology label printer standards and is designed to ensure low energy consumption. The Epson TMU220 is amongst the most popular impact printer in Australia and particularly in the restaurant industry.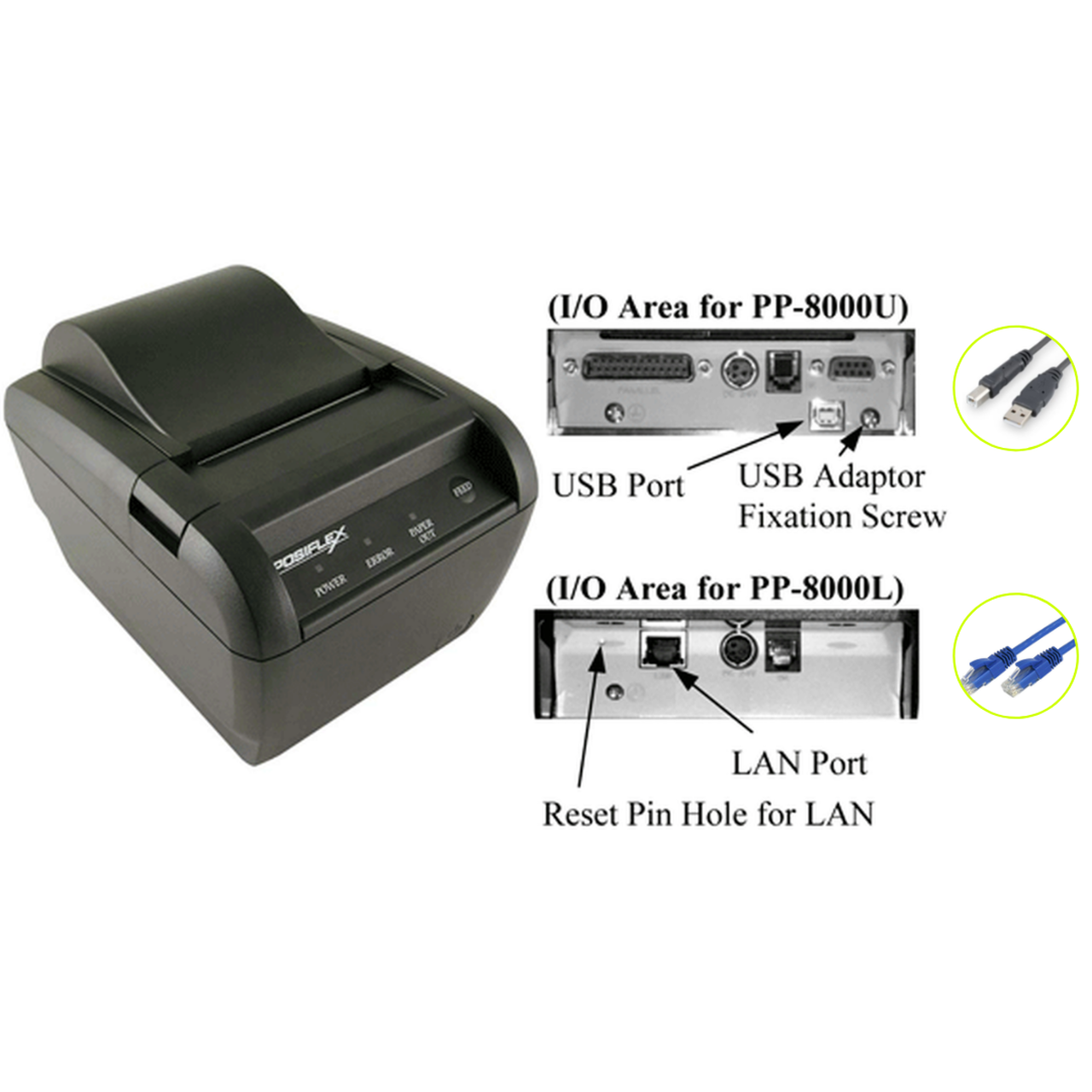 AURA8800 is a cutting-edge thermal printer from Posiflex that is designed to reduce crowded checkout queues in the peak hours and facilitate promotional activities during holidays. With a printing speed of up to 220mm/s, this device has an optional spill-resistant top cover that manifests a durable design for harsh retail environments. It displays a stylish curvy surface and an easy wall-mount design for hassle-free deployment. Other features include USB and Ethernet interface options, high printing resolution up to dots / mm and 576 dots / line, QR printing support, drop and load structure for hassle-free paper loading.
The Final Word
So, these were some of the best receipt printers from top reputed brands that are widely used and admired by retailers for their affordable pricing, high performance and speed, compatibility, low-maintenance, compact design and durability. Remember that not all of these receipt printers are created equal and may not have all the aforementioned features in a single model.
At POS Plaza, we can assist you in finding the best receipt printing solution from the overwhelming range of top receipt printers. Our expert team will enquire about your needs, budget, retail environment and other factors to suggest a model that offers maximum value for your money and time.