Shopify POS Review 2021: Is Shopify The Right POS Solution for Your Business?
As the retail and restaurant industry moves further and faster into a thriving technological landscape, so must the merchants and the way they conduct their business.
Considering the significant volume of card payments and cash that flows through a customer-centric business each day, POS systems have become a technology of choice for most businesses. No matter what type of products or services you deal with, a POS system will serve as an all-in-one solution to your everyday operational challenges and processes, such as tracking inventory levels, processing credit card payments, collecting and storing customer information, monitoring important sales data, managing employee schedules and payroll and more. However, choosing the right one is what makes a difference.
Shopify is one of the most common POS solutions in the market and this blog focuses on what makes it a leader in POS.
GETTING TO KNOW "THE SHOPIFY POS"
Shopify POS is an integrated point of sale solution that allows merchants to manage both online and offline sales. The solution comprises a combination of software and hardware components that work seamlessly with iOS and android devices.
Powered by Shopify point of sale application, Shopify hardware enables you to manage transactions, process orders, accept payments, find products, swipe credit cards, generate receipts, and control all other operations from anywhere. The easy and quick integration helps you start selling online, offline and on the go through a unified platform.
BENEFITS OF USING SHOPIFY POS
Think about the worst shopping experience you have ever had in your life. Now try to remember what caused that experience – was it the poor customer service or long wait times? Wrong product information or inappropriate return policy? It may be one of these or a combination of all these factors that created a bad impression and caused frustration.
When a customer walks into a store, they expect a seamless checkout process and streamlined experience with helpful store staff at arm's reach if needed. Shopify POS is designed with both customer and retail experience in mind.
Here's a list of benefits of Shopify POS:
Offers an affordable pricing structure
Backed by reliable 24/7 customer support
Features a simple and user-friendly interface that allows users to easily navigate through the front-end and back-end features.
Allows for easy integration with all parts of your Shopify store and offers great usability – even merchants with minimal time or knowledge can start selling and accepting payments without any hassle.
Offers a wide range of robust industry-specific POS hardware
Supports multi-location business management
Accepts all major forms of payment
HOW DOES SHOPIFY POS WORK?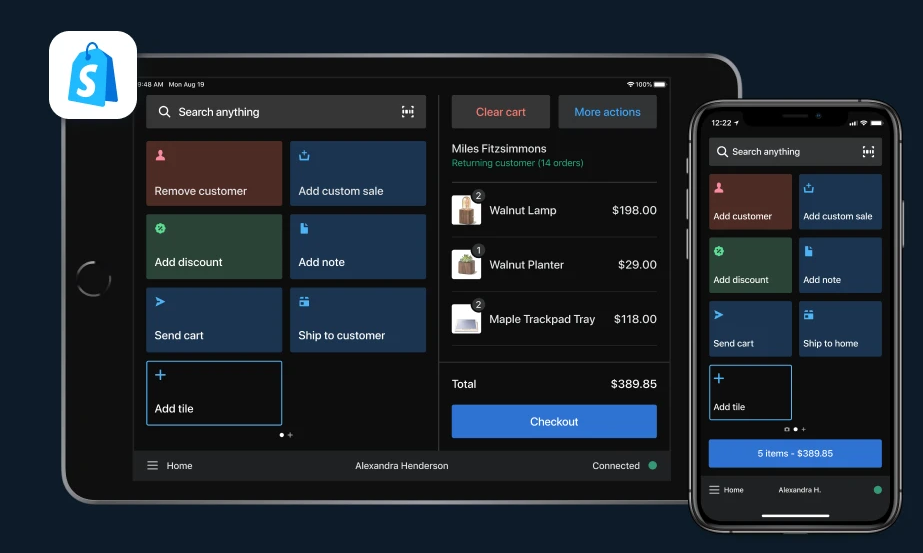 Though Shopify POS is designed to work with a variety of retail hardware components, such as an iPad stand, barcode scanner, receipt printer and cash drawer, what you need to start selling and processing sales is an iPhone or iPad, the Shopify POS application, a Shopify store which can be created from the app.
To operate your Shopify POS system, you need to first install the Shopify app. If you already have a Shopify account, you can use your credentials to log in to Shopify POS. The app automatically loads all the products. In case you do not have an account with Shopify, you can use a 14-day free trial and start adding products directly from the app. Even if you only sell offline, creating a Shopify account is necessary as it serves as the dashboard of your Shopify POS system. To start accepting credit/debit card payments, you will need to plug in the Shopify card reader into your iPad device which you plan to use as the main payment terminal or register in your offline store.
You can install the Shopify app on multiple iPad or iPhone devices to utilise Shopify POS capabilities on the go. All the customer information, sales records, inventory tracking and other store activity from all your devices will automatically synchronise with your Shopify store.
SHOPIFY POS CAPABILITIES THAT STREAMLINE YOUR BUSINESS
Now that we have acquainted you with the benefits of Shopify POS and aroused your interest in the application, you are probably wondering how exactly Shopify POS can help your business grow.
Shopify POS is packed with features and capabilities that allow merchants to effectively manage their physical and digital stores through a single platform. Besides the basic functions – processing orders, taking payments and finding products, producing receipts, Shopify POS comes with a vast array of management tools that add efficiency and convenience to different aspects of your business including customers, inventory, employees, sales and analytics.
SHOPIFY FEATURES AT A GLANCE
Accept multiple payment methods – credit/debit card, PayPal, Amazon Pay, Apple Pay, gift cards, custom payments, partial payment and more.
Refunds and store credit
Multiple sales channels
Custom sales, discounts and loyalty programs
Custom receipts
Automatic tax calculations
Store management
Staff management
Inventory management
CHECKOUT
With a Shopify card reader, the store staff can complete transactions using an Android or iOS device anytime, anywhere. With the order notes feature, you can keep track of important order information and special requests by adding notes to customer profiles. You can also store a customer's shipping address and contact details to ship an order on a later date.
Shopify POS gives you the ability to collect tips and apply sales discounts at the checkout. In addition, you can set up your Shopify app to automatically calculate tax rates during the checkout process depending on your store's location. Moreover, you can customise receipts and emails with promotions, store URL, store hours, return or exchange policies etc., to serve your customers better.
PAYMENT
With cash slowly going out of favour with modern shoppers, it has become inevitable for retailers to accept multiple payment methods for purchases made online and in-person. Shopify POS allows you to accept all payment methods credit cards, digital payments, custom payments, partial payments, split tenders and gift cards without worrying about third-party fees and restrictions. You can also track all your credit or debit card transactions using your own card terminal.
What's more, the ability to offer store credit instead of refunding the payment to the source account helps encourage customers to buy from you again.
Just as you do not want to risk losing money to overstocked items, you cannot afford to lose sales due to your most popular items going out of stock. And that is where inventory management plays a role.
Shopify POS offers basic to powerful inventory functions that allow you to effectively handle products across all channels and locations. With smart collections, you can organise your products by price, type, season, sale, vendor and inventory level, saving yourself a lot of time and effort. You can set automatic reminders for low inventory and even enable your system to automatically place orders when running low on items. The system will also track stock counts and automatically update inventory when new items are added.
Selling multiple versions of the same product? You can organise each variation by colour, price, size, SKU, weight etc.
CUSTOMER MANAGEMENT
With every purchase a customer makes, the retailer can ensure that the customer comes back for more. Shopify POS offers a myriad of customer management tools that offer you ways to boost customer acquisition. By creating customer profiles, you can store and look back at important customer information such as personal details, order history and shopping patterns anytime to offer custom discounts and rewards to your best customers.
Shopify POS also synchronises your retail and online customers and allows you to directly call, email or text your customers from your Shopify store.
EMPLOYEE MANAGEMENT
Running a retail store comes with several responsibilities and one of them is managing your staff, especially with your business starts to grow. Shopify POS allows you to create a PIN for each employee, which allows you to closely track employee activity, work hours and sales. These employee insights help you identify high performers to be rewarded and less-productive employees that need training.
SALES REPORTING
Regularly tracking your store performance is necessary to improve your marketing efforts and make informed decision about your employees, customers and business. Shopify POS provides you with an actionable dashboard of your sales, traffic and orders which gives your detailed insights into your store's performance and growth. You can analyse data by day, month and year and determine which products are selling fast and which ones are not. Not only do you get a unified view of sales, returns, discounts, taxes and more, but you can also manage multiple registers reconcile each location's sales and finances for the day in a single view.
All those sales reports, product reports and other finance data help you build an optimal pricing and marketing strategy for each product and sales location.
HOW MUCH DOES SHOPIFY POS COST?
Shopify POS offers five plans to suit different levels of users:
Free Trial
Shopify Lite - $9/month
Basic Shopify - $29/month
Shopify - $79/month
Advanced Shopify - $299/month
Prospective customers can get to know and try out Shopify POS features by signing up for a free 14-day trial with entering payment information. At the end of the trial, if you wish to launch your store, you will need to upgrade to any of the following paid plans:
SHOPIFY LITE
Available for $9/month, this plan allows you to sell using your existing website or Facebook page. This means you cannot technically build a full online store on the Shopify platform for your brand, but you can integrate your product catalogue with an existing social media page, blog or personal website.
With a Shopify Facebook store, you can upload and sell an unlimited number of products, offer shipping updates, track codes vis Facebook Messenger and provide customer service. You can also process in-person transaction using a Shopify reader and send custom invoices to customers from your Shopify dashboard.
BASIC SHOPIFY
As the name suggests, the Basic Shopify plan offers all the basic functionalities you need to build an online store from the ground up including unlimited products, 2 staff accounts, unlimited file storage, 24/7 support, free SSL certificate, manual order creation, website and blog, discount codes and sales channels.
Shopify charges $29/month for this plan plus 2.9% + 30¢ transaction fee for every online purchase and 2.7% for every in-person purchase. If you want to set up a small store or wish to add basic eCommerce functionality to your existing website, Shopify Lite is an ideal plan for you.
SHOPIFY
Designed for growing businesses, the standard Shopify is available for $79 per month with a 2.6% fees plus $0.30 of all online credit card purchases and a 2.5% cut of all in-person purchase. In addition to all the features of Basic Shopify, this plan allows users to add up to 5 staff accounts, get more granular reporting data, create gift cards and recovers abandon carts.
ADVANCED SHOPIFY
The most expensive of all the Shopify POS plans, Shopify Advanced is designed for medium to large businesses that need additional capabilities to support their growth. It has everything your get in the standard Shopify plan plus 15 staff accounts, more advanced reporting features, third-party shipping rates and 0.5% transaction fees.
With this plan, Shopify charges $299 per month and 2.4% plus $0.30 per online credit card transaction and 2.4% for in-person transactions.
When choosing a Shopify POS plan, note that the more expensive your Shopify plan, the lower the credit card rates and transaction fees. Besides, the Basic Shopify plan with w just the Shopify POS app and third-party POS apps while the standard
'Shopify" and "Advanced Shopify" packages include register shifts, hardware support, staff POS pins and multiple store location options.
SO, IS SHOPIFY POS THE BEST SOLUTION FOR YOUR BUSINESS?
The ease of integration and affordability of Shopify POS certainly makes it appealing to small and medium-sized retailers, but some scaling businesses may still feel a lack of major functionalities in more advanced plans.
To determine if Shopify POS is the right solution for your business, you need to first consider which POS capabilities can help resolve the current challenges facing your business and how much you are willing to spend on them. Then depending on conclusions plus specific business needs, you will need to compare different Shopify plans to see which one offers you the best value or if any of them is suitable at all.
Sounds like too much work?
Let the POS Plaza team to do all the hard work for you. We will leverage our industry-specific experience and market knowledge to suggest what works best for your business.