Restaurant POS System - The Complete Buyer's Guide
Of all the major investments you will make as a restaurant owner, POS remains the most critical. After all, a great POS system along with kitchen & waiting staff is at the heart of a successful restaurant. From collecting orders to printing order slips, processing payments and managing prices, menus and promotions, a restaurant POS system handles several tasks to deliver seamless customer services and ensure smooth operations at the point of sale.
But finding the right POS solution is the only way restaurant owners and operators can capitalise on innovative industry-specific POS functionalities. It can be difficult to find an ideal POS system or to know where to even start the search, especially if you have never operated a fully integrated restaurant POS system. There are several hardware components and software capabilities that will impact your restaurant operations, and there are endless choices of solutions equipped with those capabilities. So, choosing one can be confusing and time-consuming.
Since restaurateurs have a lot of core operations to look after, they usually do not have the time or interest in researching POS technologies that suit their business needs. Keeping that in mind, we have created this guide to help you understand your options and vital considerations which further help you make an informed decision about your restaurant POS.
WHAT IS A RESTAURANT POS SYSTEM?
A point of sale system is the central nervous system of a business that deals with customer transactions daily. While there are many different models of POS systems in the market, if you run a restaurant, you would only want to invest in a type that is purposely built to streamline a restaurant's front-of-house and back-of-house operations, while delivering a seamless hospitality experience to customers.
Unlike a basic POS system that processes and records transactions between a business and its consumers, a point of sale solution designed specifically for restaurants eases the communication between FOH and BOH staff, gives the ability to send special offers, coupons and promotions to guests via email or text messages and reduces operational inefficiencies. Specific features, such as the ability to take orders online for delivery or pick-up, kitchen printer support for multiple stations, auto-fire and chat functions can make the ordering process faster and accurate. On other hand, front-of-house functions like check splitting, tableside ordering and mobile payments allow the staff to save time and improve customer experience.
STEPS FOR CHOOSING A RESTAURANT POS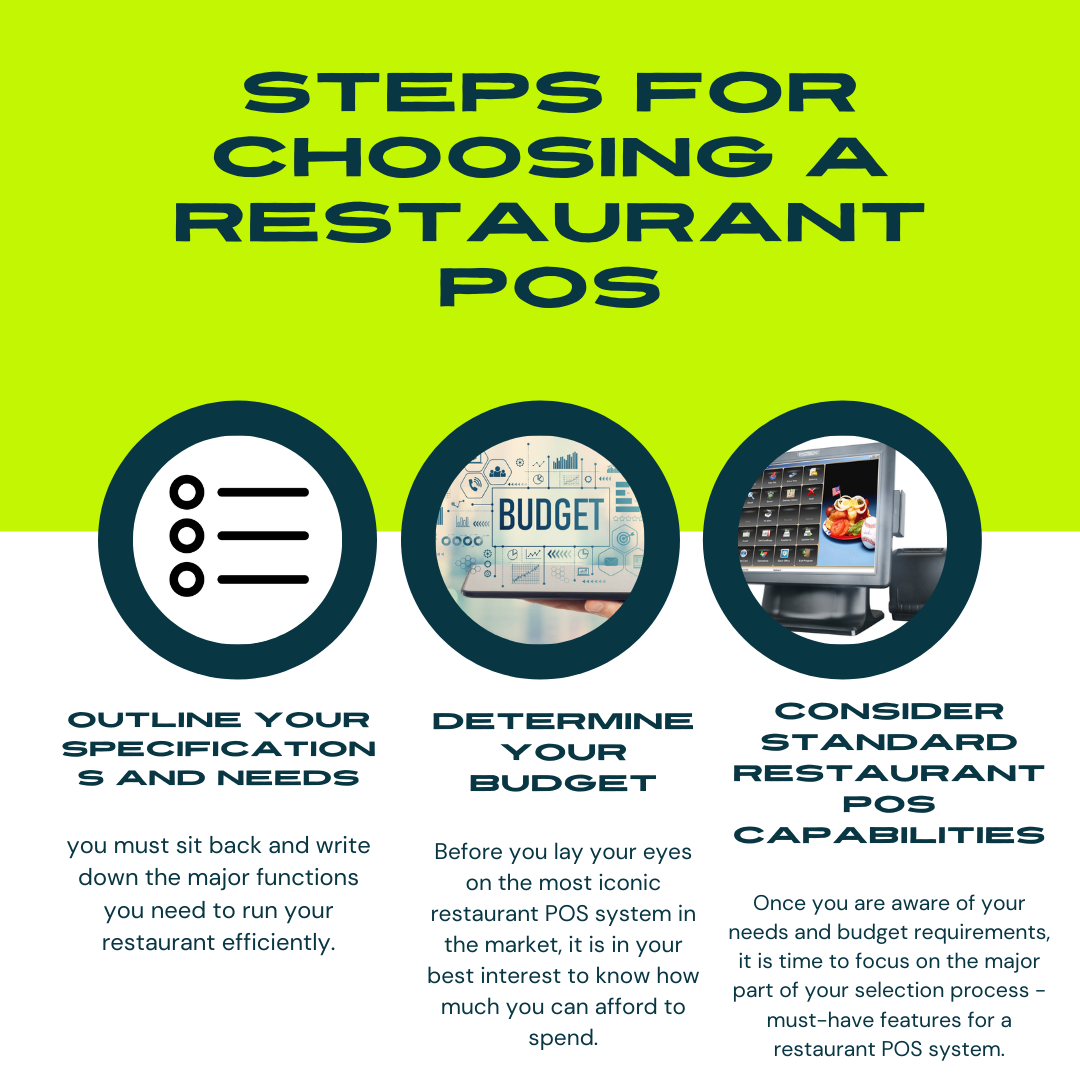 1.OUTLINE YOUR SPECIFICATIONS AND NEEDS
Finding the right restaurant POS system is as much about sitting down as about being hands on. That means, you must sit back and write down the major functions you need to run your restaurant efficiently. Does your business need flexible floor management or split check functionality? Do you want your staff to be able to track ingredients? Do you offer gift cards frequently?
Most of the advanced restaurant POS systems will include features like employee schedules, online ordering, mobile payment, customer databases, management of recipes and ingredients and loyalty programs. All these features sound good to have, but they may not all be as useful to every business - after all, a full-service restaurant has different needs from fast-casual cafés or pizzerias.
The bottom line is the POS solution you choose should accommodate the needs of your type of business operation.
2.DETERMINE YOUR BUDGET
Before you lay your eyes on the most iconic restaurant POS system in the market, it is in your best interest to know how much you can afford to spend. Setting a budget before starting your research helps in many ways – like it allows you to quickly narrow down the pool of choices and keeps you from being tempted to pick the shiniest product on display. There are also a lot of financing options available in the market to help you afford the right solution.
3.CONSIDER STANDARD RESTAURANT POS CAPABILITIES
Once you are aware of your needs and budget requirements, it is time to focus on the major part of your selection process - must-have features for a restaurant POS system.
Restaurant inventory can be more complicated to handle than retail, and managing it manually can leave room for costly mistakes. If you want to stay updated with information like how much food and drinks you have on hand, food costs, profit margins etc., you need inventory management tools in your POS system.
The following are some of the inventory management capabilities to look for:
Stock Monitoring: It is important for a restaurant operator or staff to organise the existing stock before bringing in a fresh one to avoid stockouts and overstocking. The inventory monitoring tools give you exact count of the available stock at the beginning of the day and toward the end of the day. The system automatically calculates the balance stock and tallies it with the available physical stock, preventing inventory discrepancies and helping you make informed decisions about stock fulfillment.
Raw Material Management: Effective management of raw goods helps avoid wastage. With the ability to track the individual ingredients used to make a single dish, you can efficiently manage inventory for your menu.
Reorder Alerts: This POS feature prompts you to reorder when you are running out of supplies. You can set up a reorder level for each of your items and your POS system will send you an email reminder to reorder in advance as soon as any ingredient reaches that "minimum" level. Depending on your POS software, you may also be able to automate the whole process by setting re-order benchmarks. The system will place reorder requests for you as items reach their benchmarks.
These inventory management capabilities will prevent product spoilage due to overstocking. Also, you will never have to disappoint your customers again telling them that their favourite foods are unavailable because you ran out of the central ingredient of that dish. In addition, proper inventory control will ensure a good return on investment as your restaurant POS system mitigates expenses and decreases overhead inventory costs.
Basic reporting features are included in all types of restaurant POS systems, but your POS solution must be able to provide you reports that you need to run a success business. As a restaurateur, you must have access to information like daily sales, best-selling products, slow selling products, best performers and more, to improve your staff performance and streamline restaurant operations.
The following are examples of various reports your POS system should be able to generate:
Sales Reports:
Staying on top of your sales volume is important to be able to monitor the performance of each product as well as your sales team, while planning effective strategies to increase sales and revenue. A detailed sales report also helps you identify food trends across your menu, different locations if you have any and even date ranges. Let us say you run a chain of Thai Restaurants and you notice that Singha beer is quickly gaining in popularity in one of your restaurant during the holiday season. Or, perhaps you have noticed that a wine sells more quickly in one of your store locations. You can use these meaningful insights to influence your inventory ordering and marketing decisions.
Inventory Reports:
Just as important as sales reports, inventory reports allow you to keep track of your ingredients to effectively plan for future sales. After all, telling a customer that you are out of a dish or an ingredient to serve them the perfect cocktail, would not make a great first impression.
Without knowledge of the status of your inventory levels for forecasts about the future, you cannot reduce food costs and internal theft.
A good inventory reporting tool should be able to provide you with:
- inventory valuation so that you know what items you have on hand and how much of your cash is tied up in stock
- a daily sheet including quantities of items on hand, par levels and items that are running low and need to be reordered.
Employee Reports:
There are employees that go the extra mile to ring up sales and bring in revenue for your business and then there may be some who are helping themselves to a steak dinner and a bottle of wine on your dime. As a restaurant owner, you would want to know who needs to be rewarded and valued and who needs better training.
Employee reports give you detailed insights into how each employee is performing as well as how much it is costing you to keep them. Besides creating work schedules and calculating payroll, you can use the data from employee reports to identify best and worst performers to mindfully staff your employees on regular and busiest days of the week.
A dedicated marketing platform will always be at the core of your restaurant marketing, but that does not mean you do not have to look for a set of marketing features in your POS system.
Here are some key marketing features you can find in an advanced restaurant POS solution:
Local SEO and Reviews Management – Some POS systems, like ShopKeep, give you the ability to manage your business information on platforms like Google My Business, and your business reviews on Yelp. This allows you to attract more customers and manage your brand reputation online.
Email Collection – A good restaurant POS system will allow you to collect and store email addresses of customers during checkout to send out personalised email campaigns.
Online Ordering – One of the newest POS marketing tools, but it allows you to accept orders online, and helps increase revenue from online customers. Just make sure your staff are trained and well equipped to handle online orders.
Customer Loyalty – Many POS systems offer a built-in loyalty program for an added monthly fee. With a loyalty system in place, you can reward your valuable customers, strengthen your bond with them and encourage repeat business.
No matter how small you start, but eventually every restaurant owner would want to see their business growing - attracting more guests, running multiple locations, turning into a chain. A basic POS system may be cheaper to start with, but it will need to be replaced once your business starts to grow, resulting in operational inefficiencies and high costs in the long run.
When evaluating a restaurant POS system's functionalities, make sure the one you choose allows you to easily integrate with third-party solutions as your restaurant starts to grow. Let us assume you run a full-service restaurant that serves lunch and dinner with bar service but as your customers increase, you decide to offer delivery and take-out service. Your POS system should be flexible and powerful enough to integrate with a third-party delivery app to ensure easy management of orders and delivery staff.
TABLE MANAGEMENT AND RESERVATIONS
Most of the busy restaurants and bars provide their customers with an option to reserve a table to control the flow of diners and increase customer satisfaction by guaranteeing them a table. Advanced POS systems programmed for restaurants have built-in table management and reservation tools. Table management features allow you to keep tabs on tables that are occupied and tables that are available which further helps you manage seating arrangement of diners and ensure a hassle-free experience for everyone. The reservation system, on the other hand, enables customers to make online reservations as well as automatically updates the table status based on customer reservations.
THE TAKEAWAY
Now that you understand features available in restaurant POS solutions, you can easily compare your options and narrow down your choices to a suitable solution. Apart from the above-mentioned pointers, digging into customer reviews of the POS system of your choices and talking with restaurant owners that have similar operations as yours can ease your selection process. But if you are still confused how different features of a advanced restaurant POS printer and system can specifically benefit your business operations, get in touch with our sales team.
At POS Plaza, we not only bring you a huge range of industry-specific POS systems and hardware, but we also take the responsibility of providing our customers with most accurate advice on available choices. Our experts have helped hundreds of Australian restaurateurs find an ideal POS solution and will be more than happy to assist you.