Best Cash Registers for Small Businesses
In today's world of automation, most businesses are switching to automated systems to systematise and streamline their overall business operations. Albeit, advanced point of sale (POS) systems are the most preferred option these days, traditional cash registers are still quite popular, especially in terms of advanced features, making them a perfect option for small businesses. Since cash registers are the backbone of a retail or hospitality business, it is necessary to find a reliable, robust, and quality cash register for your business which is, of course, a challenge. There is an array of cash registers available in the market, designed to meet specific small business needs. At the same time, there are industry-specific devices too.
Earlier, cash transactions at retail stores were processed manually, which was a time-taking process and was susceptible to human error. But, in 1879, an Ohio-based entrepreneur, James Ritty, invented the first mechanical cash drawer to store cash securely and process transactions accurately.
This blog enlists a few cash registers that have been deemed very popular for small businesses. To help you make an informed decision, let us first discuss
The Different Types of Cash Registers

Cash registers as we know are designed to facilitate infallible customer transactions at retail stores or restaurants, providing business owners with a secure drawer to store their cash.
There are 4 types of cash registers:
1. Electronic Cash Register: Compact and feature-rich, electronic cash registers are the electronic versions of mechanical cash registers. These devices are designed to store cash, accept cards, track and manage inventory, sales, and perform other business operations. Most electronic cash registers come with a cash drawer and an input screen that help process sales. Usually, business owners connect these cash registers with a barcode scanner or a receipt printer and are widely accepted by small business owners because of their cost-effectiveness.

2. POS Cash Register: Undoubtedly, point of sale (POS) cash registers offer more versatile functions and functions with point of sale (POS) software as an all-in-one solution for business operations. These devices support various functions such as inventory management, sales reporting, CRM, loyalty programs, and others that not only help in the seamless functioning of their business operations but also enhance customer service.

3.Mobile Cash Register: As the name implies, you can use these devices outside your cash counter's premises because of their portability. These devices also come with card readers, receipt printers , and cash drawers that allow you to process payments from any location within the store, just using a tablet or your smartphone. These solutions come in handy when there's a huge customer flow at your store.

4.Cloud-based Cash Register: This is the most recently introduced type of cash register that allows business owners to conduct their business operations from any location, at any time with just the help of a stable internet connection. All transaction-related data is stored on a remote server which gets updated automatically, providing retailers immense flexibility.
Best Cash Registers for Small Businesses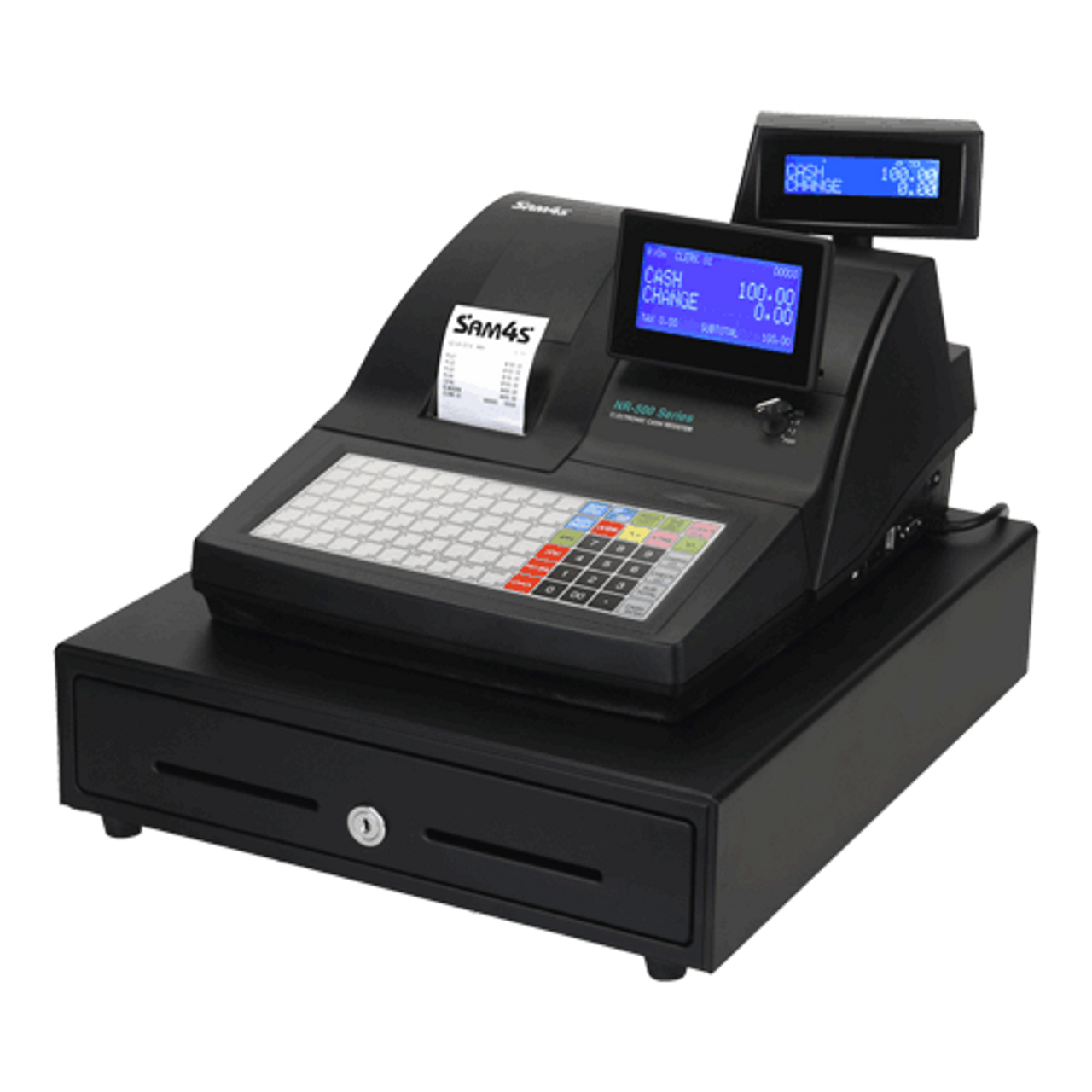 1. SAM4s NR-510 : Designed with an 8-line blue backlit graphic liquid crystal display that produces a clear image, this cash register provides menu-driven programming. The customer display has a 2-line x 16-character LCD that displays the transaction amounts to the customers. At the same time, it offers easy backup, restore, and report, and comes with an electronic journal printer.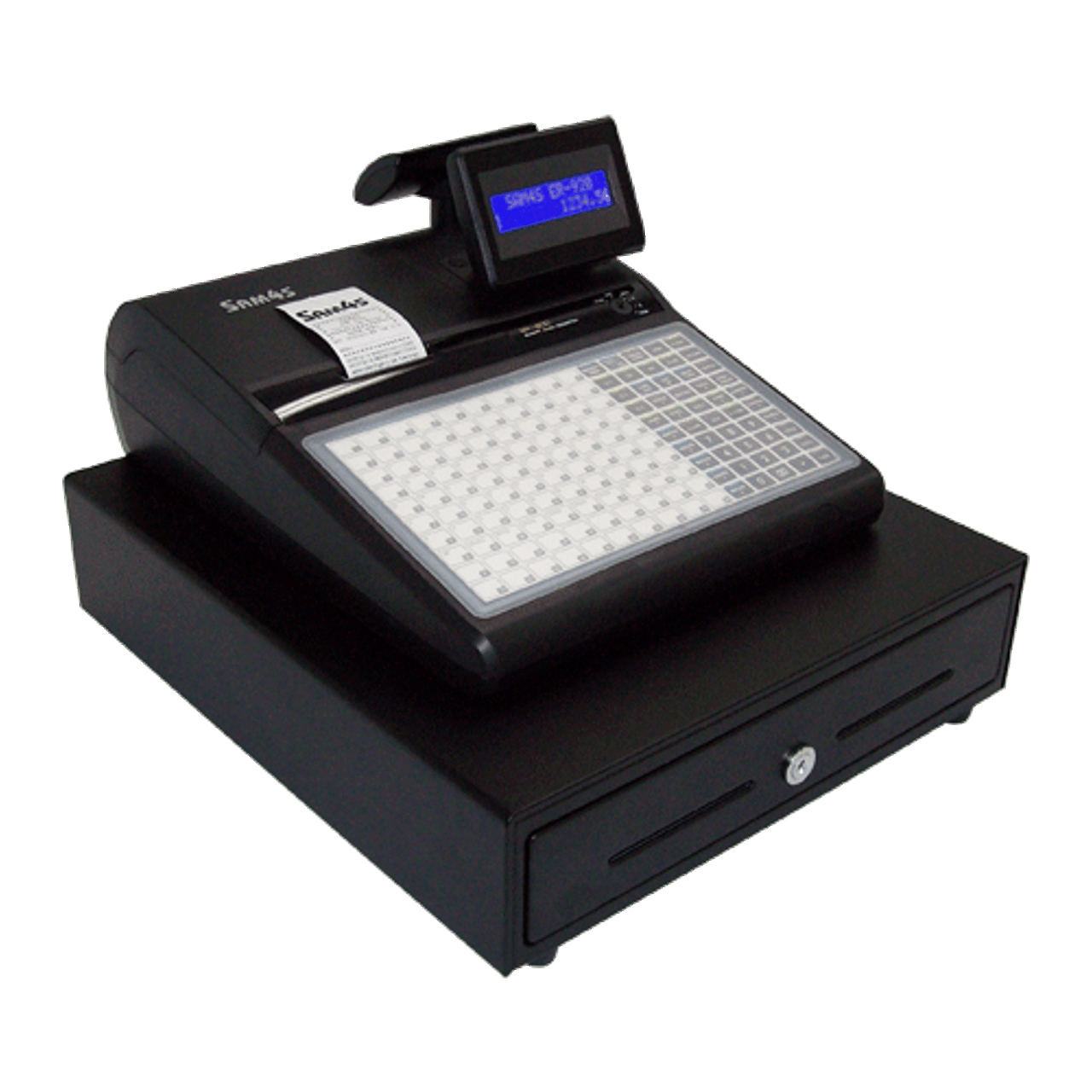 2. SAM4s ER-920: The biggest advantage of this cash register is that it is safe from virus attacks that ensure your data security. Perfect for restaurants and cafes, the SAM4s ER0920 cash register offers high speed (23 LPS) and can store data and take backups. The device comes with a flat keyboard and single station printer and has a front-locking system cash drawer with compartments to store cash and coins separately.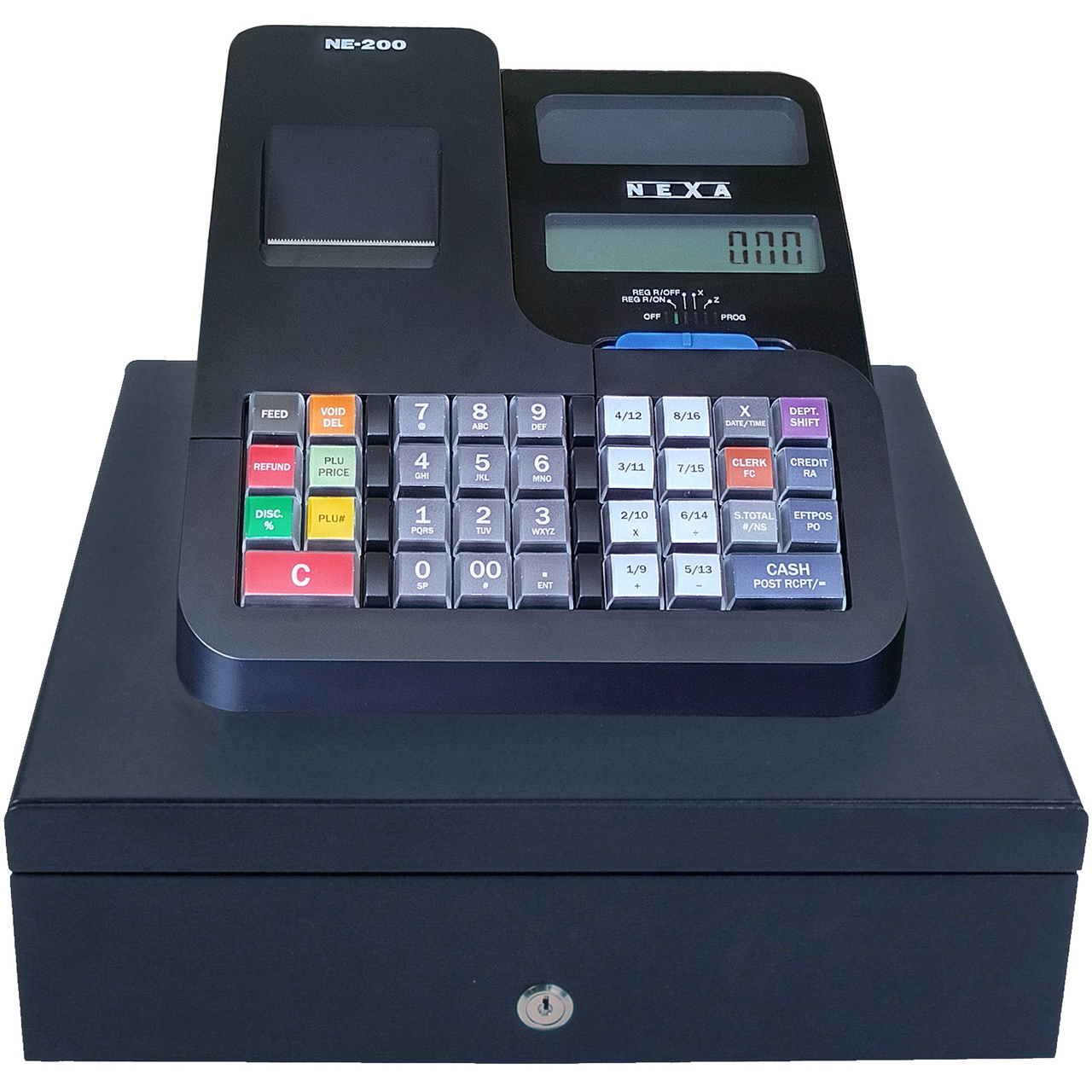 3. NEXA NE200: This electronic cash drawer comes with 4 note and 8 coin compartments, and 8 physical department keys. It also supports a receipt on/off and post-receipt feature. However, the best feature of NEXA NE200 is that it is pre-configured for Australian GST and does not require additional set-up.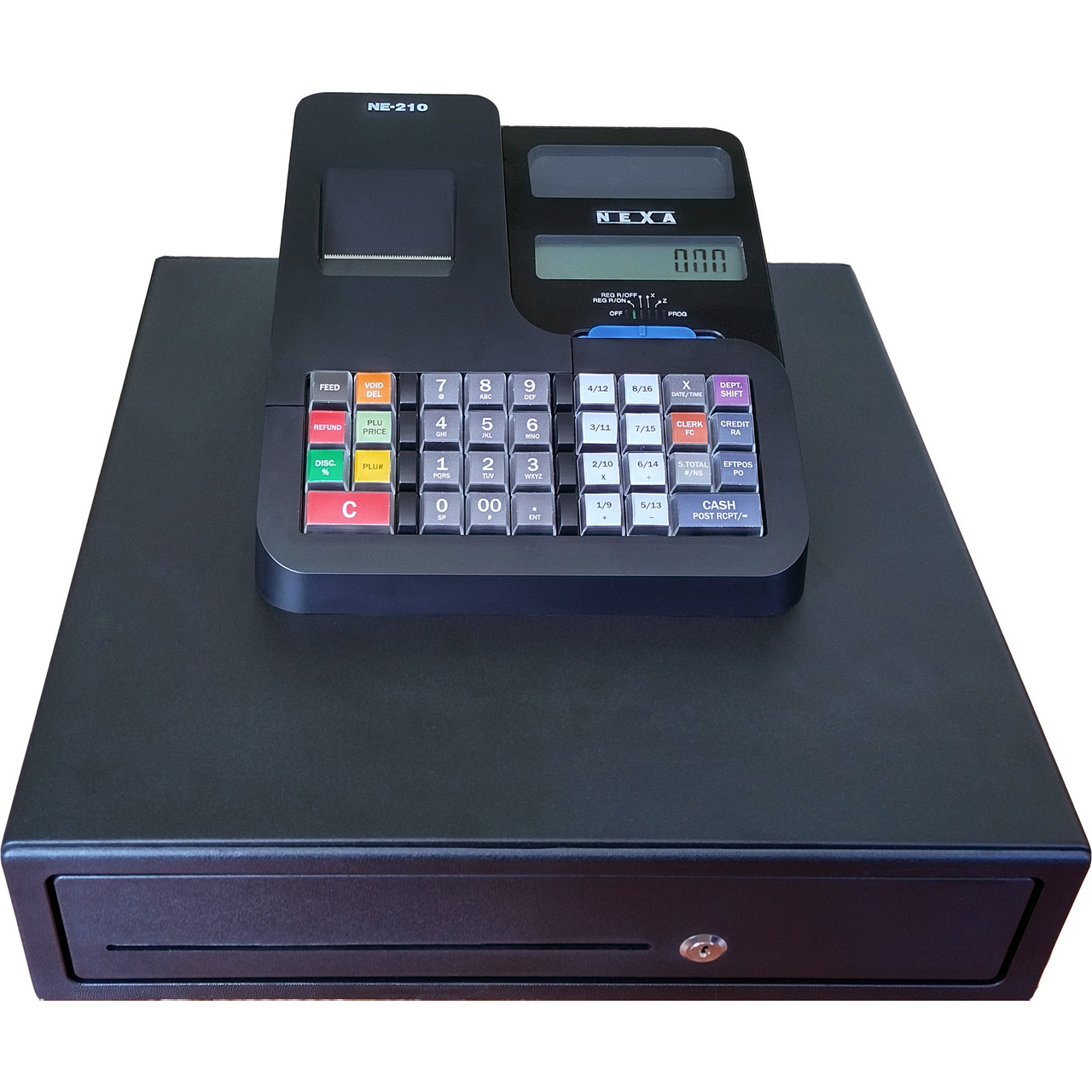 4. NEXA NE210: The NEXA NE210 is an affordable option of cash registers for small businesses that come with 5 note and 8 coin compartments. It has 8 physical department keys and Electronic Journal and has option receipt on/off and post receipt feature. Like NEXA NE200, this cash register also is preconfigured for Australian GST and would not require any additional setting up process.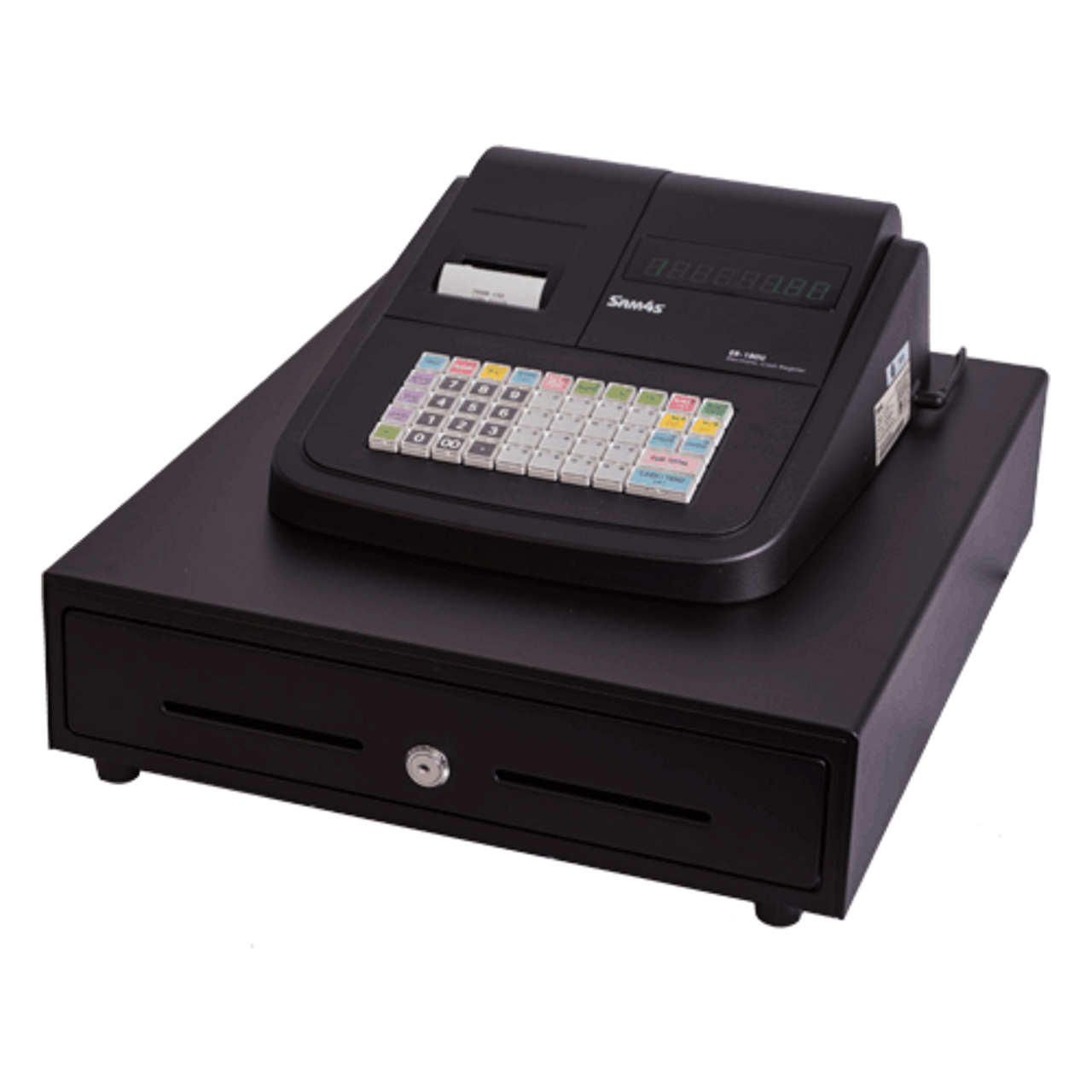 5. SAM4s ER180U : Characterised by 16 departments, this entry-level cash register is another great option for small businesses. Not only is the device extremely stable but can boot up quickly, enhancing your productivity and saving you time. The SAM4s ER180U is known for its excellent quality and performance and has a convenient and compact structure.
In the End,

We are aware that a point of sale (POS) system is a revolutionised version of traditional cash registers and is more convenient for business operations. However, if you are a new business owner, you might wonder
What is the difference between a point of sale (POS) system and a Cash drawer?

The answer to your query is centralisation.
Cash registers are beneficial on a day-to-day basis. But to track extensive data, you would require a powerful solution that backs up all data to the cloud and keeps them safe, allowing you to search through extensive data stored over the years. The point of sale (POS) system supports storing and accessing these data. At the same time, an effective point of sale (POS) system is programmed to auto-generate pie charts and graphs for better understanding. This centralisation helps small businesses make effective decisions.
Now that we have listed the popular cash registers for small businesses, it is time for you to decide where to purchase your device from.
POS Plaza is Australia's one-stop destination for leading point of sale (POS) hardware, consumables, accessories, and bundles, all available at the best prices. Browse through our expansive inventory and purchase the device that meets your budget and business needs perfectly. Also, for personalised assistance regarding your purchase, contact us and our expert will walk you through your shopping process.